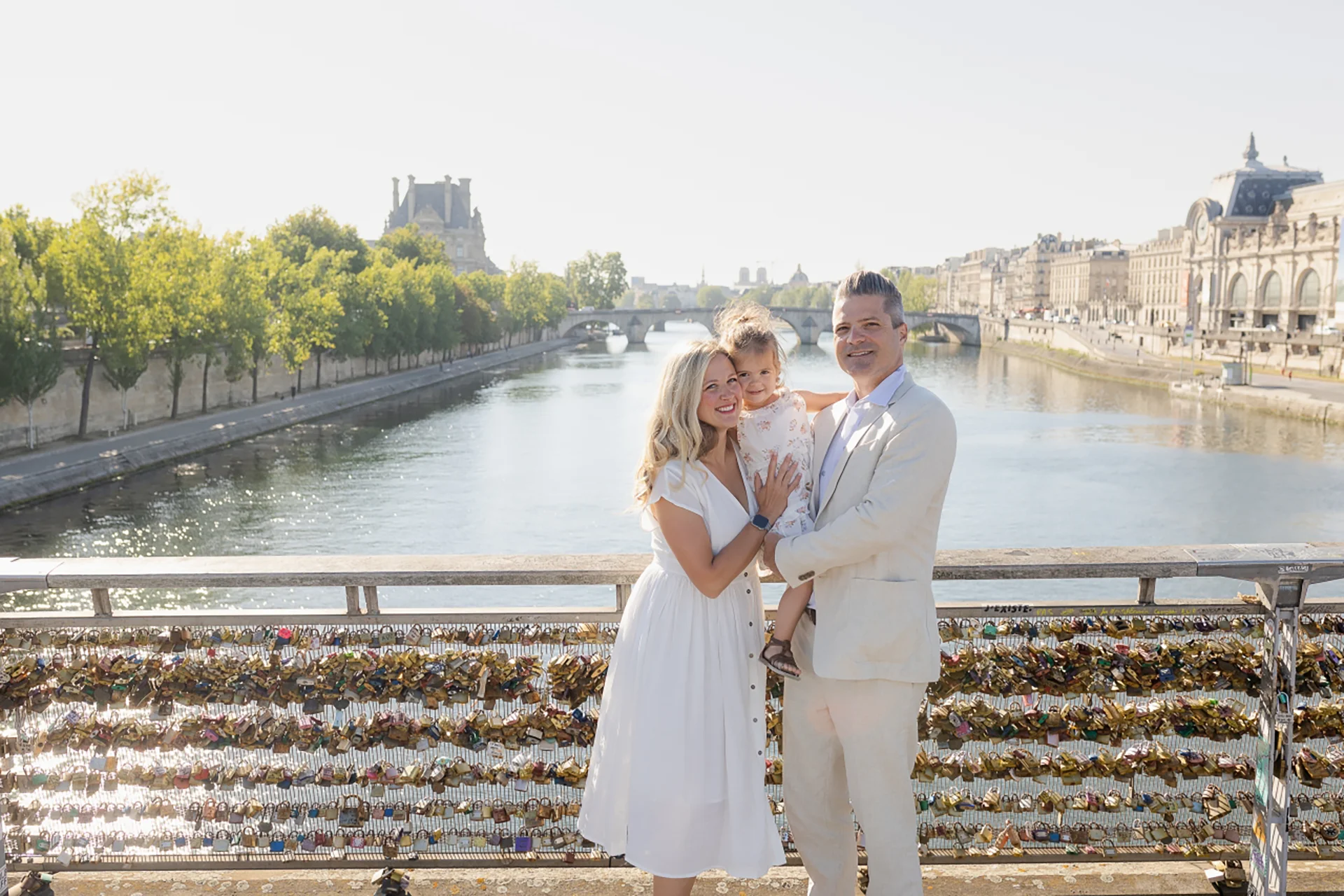 PARIS FAMILY PHOTOGRAPHER
Hiring a family photographer in Paris can be a great way to capture special moments while enjoying the beauty of the city. Paris is a city where love flourishes, where memories are made, and where family bonds are strengthened. And now, you have the opportunity to make your experience in Paris even more unforgettable with a family photo session in the City of Light.
Imagine your family gathered beneath the majestic Eiffel Tower or perhaps strolling through the beautiful gardens of Paris. Whatever your dream setting may be, the city of Paris offers an unparalleled backdrop for capturing the most special moments of your family's life.
Now, you can immortalize these moments with Beks, a family photographer in Paris. A visual storyteller, skilled in capturing the joy, connection, and love that your family shares. Each click is a memory that you can share and revisit whenever you miss that family moment in Paris.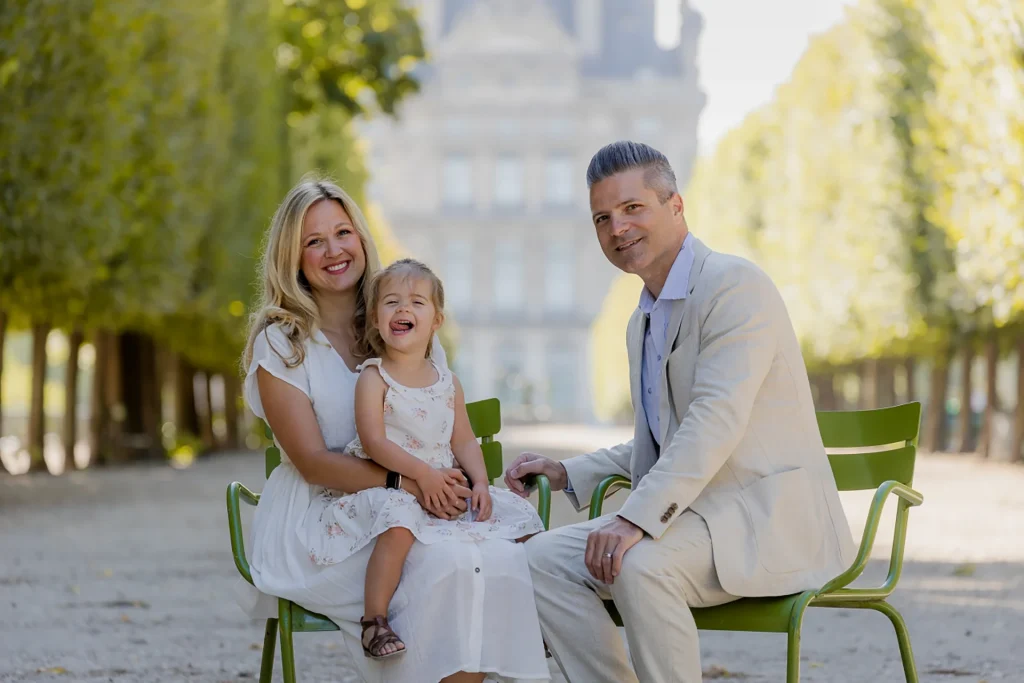 FAMILY PHOTOSHOOT IN PARIS
A family photo shoot in Paris is an incredible opportunity to capture special moments and create lasting memories in the City of Light.
If you have young children, we recommend a mini-session because children tend to get tired more quickly. Ideally, a 1-hour or 1.5-hour session is recommended, as a 30-minute session is very short and provides very little time for children to relax and feel comfortable, not to mention the potential hiccups that can occur in such a short time.
For larger groups or if you want to explore multiple locations in the city, it's advisable to go for a longer session to ensure you have a good yield of photos for everyone and make the most of the locations.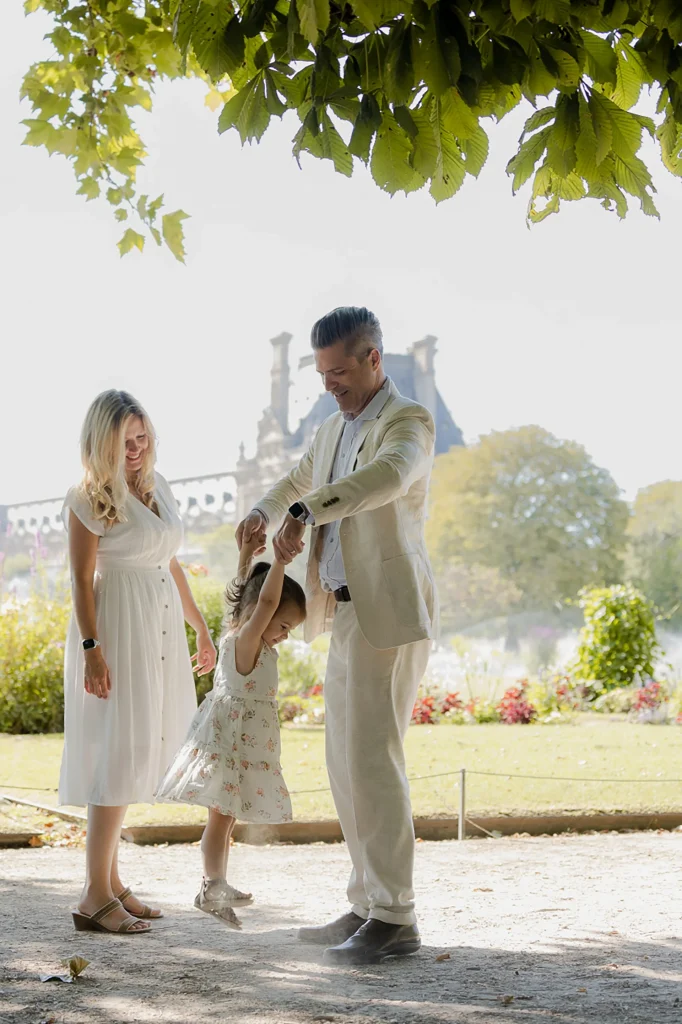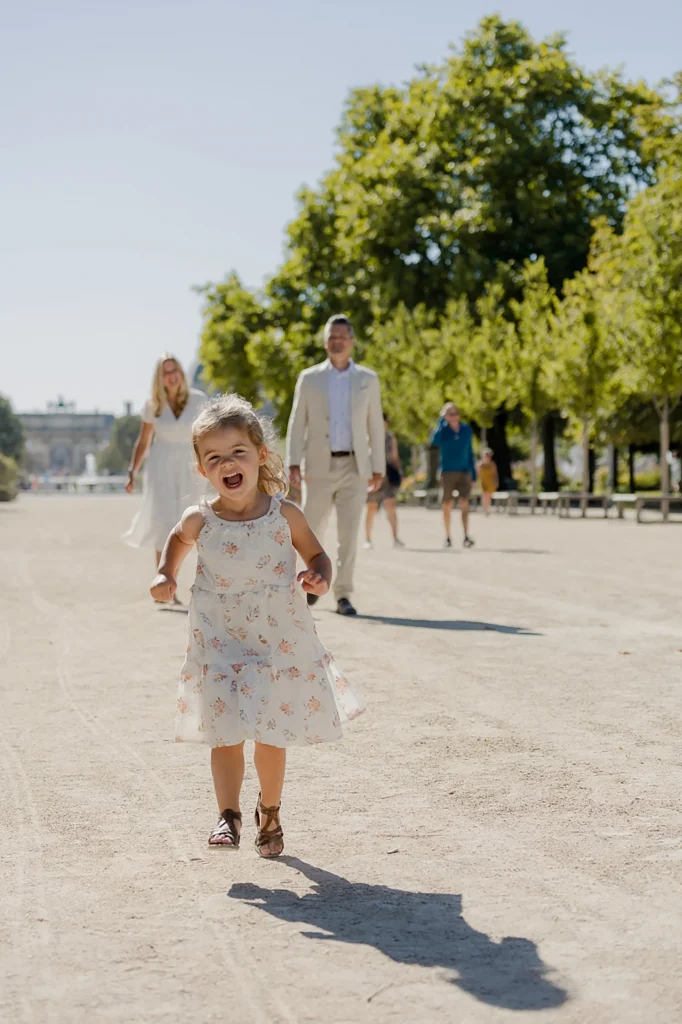 Regarding the photographic style, less posed photos and more connection and spontaneity in the pictures. Children love to play, and we will use this time to create memories with them, build a playful world, and make the most of the moment instead of imposing poses and smiles, always focusing on interacting with the children.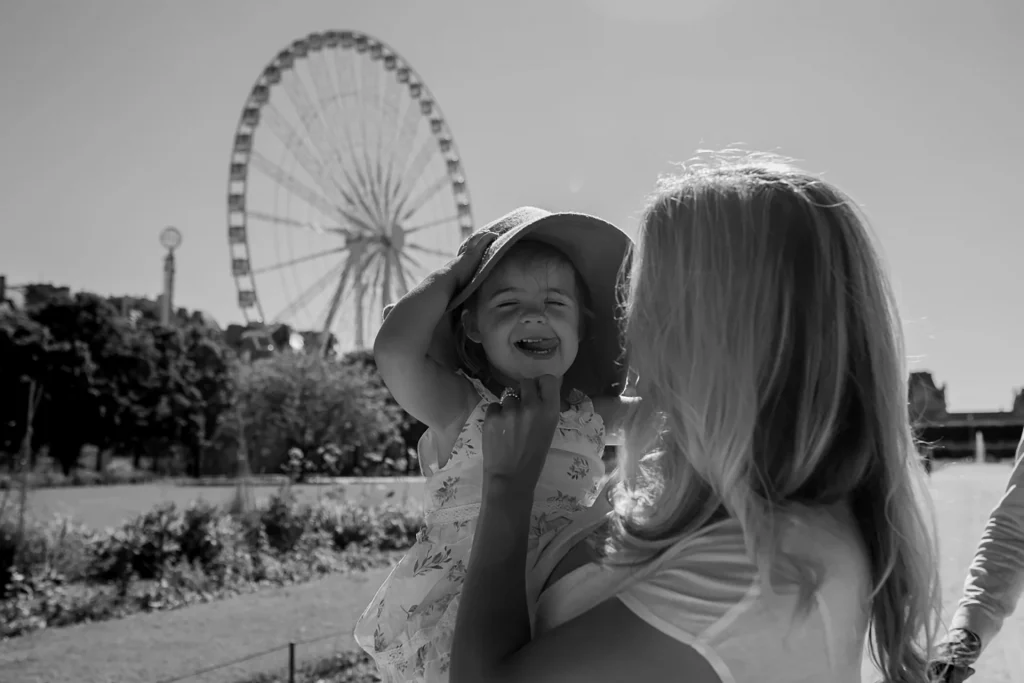 As for what to wear for your photo shoot in Paris, plan harmonious and coordinated outfits for your family, taking into account the season. On the day of the photo shoot, relax and enjoy the moment!
WHY HIRE A PROFESSIONAL PHOTOGRAPHER TO CAPTURE YOUR FAMILY PHOTOS IN PARIS?
Hiring a professional photographer to capture your family photo session in Paris is a choice that can make all the difference in the quality and meaning of your photos. There are several compelling reasons to opt for a professional photographer:
Knowledge of Locations: Local photographers know the best locations in Paris for incredible photos. They know where to find the best views, angles, and settings, ensuring that your photos stand out.
Creativity and Style: Professional photographers have a unique style and creativity to make your photos distinctive. They can add artistic and innovative elements to the images, resulting in memorable photos.
Professional Equipment: Professional photographers have access to state-of-the-art equipment, including cameras, lenses, and lighting. This ensures that your photos are of exceptional quality.
Capturing Genuine Moments: Experienced photographers know how to capture authentic and emotional moments. They have the skill to capture the happiness, connection, and love of your family in a genuine way.
Editing and Post-Production: Professional photographers perform photo editing and post-production to enhance the quality and visual appeal. They can adjust colors, contrast, and eliminate imperfections, ensuring that your photos look stunning.
Family Focus: A professional photographer focuses on capturing the essence of your family and the relationships between family members. They ensure that each family member is represented in the photos meaningfully.
Less Stress: With a professional photographer, you can relax and enjoy the moment rather than worrying about capturing it. This creates a more relaxed and authentic atmosphere during the photo session.
Long-Lasting Quality Photos: Photos captured by a professional photographer are lasting memories of high quality that can be shared, printed, and enjoyed for generations.
Priceless Value: The value of having high-quality photos that capture the special moments of your family is priceless. The photos become a family treasure that you can revisit whenever you want.
PRICE FOR FAMILY PHOTOGRAPHER IN PARIS
LOCATION OPTIONS FOR FAMILY SHOOTING IN PARIS
Paris offers a multitude of stunning locations for family photo sessions. Here are some popular options to consider when planning your photo session:
Eiffel Tower: One of the most recognizable icons of Paris, the Eiffel Tower provides a spectacular backdrop. You can choose to take photos at the base of the tower, at Trocadéro with a view of the tower, or even at the top for panoramic views of the city.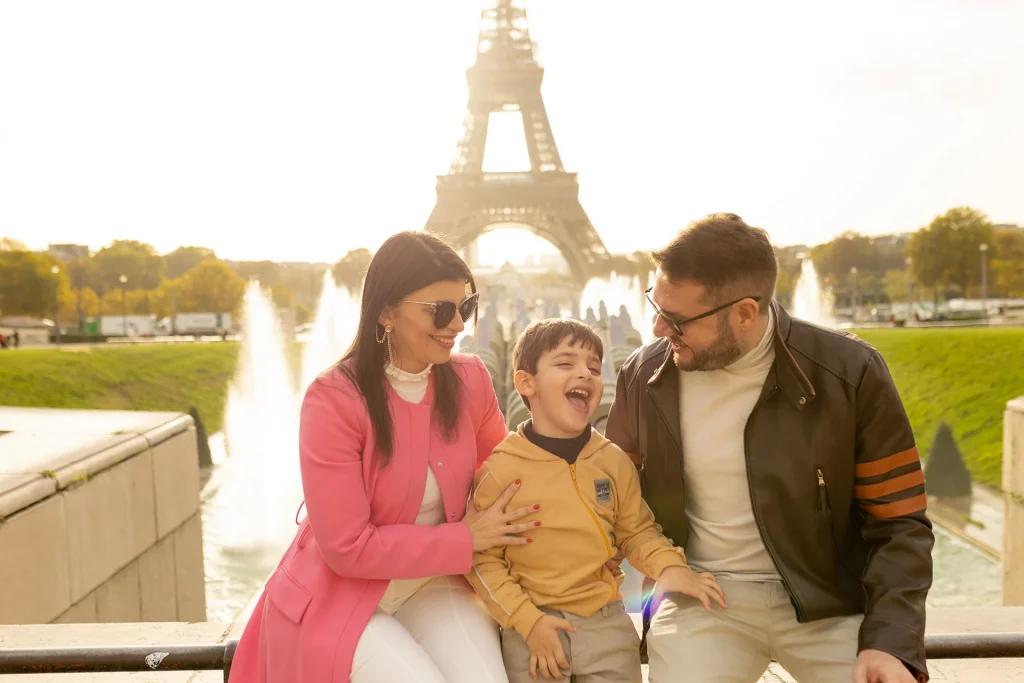 Montmartre: This bohemian neighborhood is known for its picturesque alleys, charming cafes, and the Basilica of the Sacred Heart. Cobblestone streets and spectacular views of Paris make it a romantic location for family photos.
Banks of the Seine River: The Seine River winds through Paris, providing romantic settings with its bridges, historic buildings, and water. A riverside walk can be a lovely location for family photos.
Luxembourg Gardens: This is one of the most picturesque gardens in Paris, filled with flowers, statues, and fountains. It's an oasis of tranquility in the heart of the city and can be the perfect setting for a family photo session.
Louvre Museum: The Louvre Museum is an iconic location with its glass pyramid and majestic architecture. The surrounding areas, such as the Cour Napoléon, provide grand settings for photos.
Palaces and Gardens: Paris boasts several historic palaces and gardens, including the Palace of Versailles, the Palace of Fontainebleau, and the Gardens of Giverny. These majestic locations can offer a unique atmosphere for your photo session.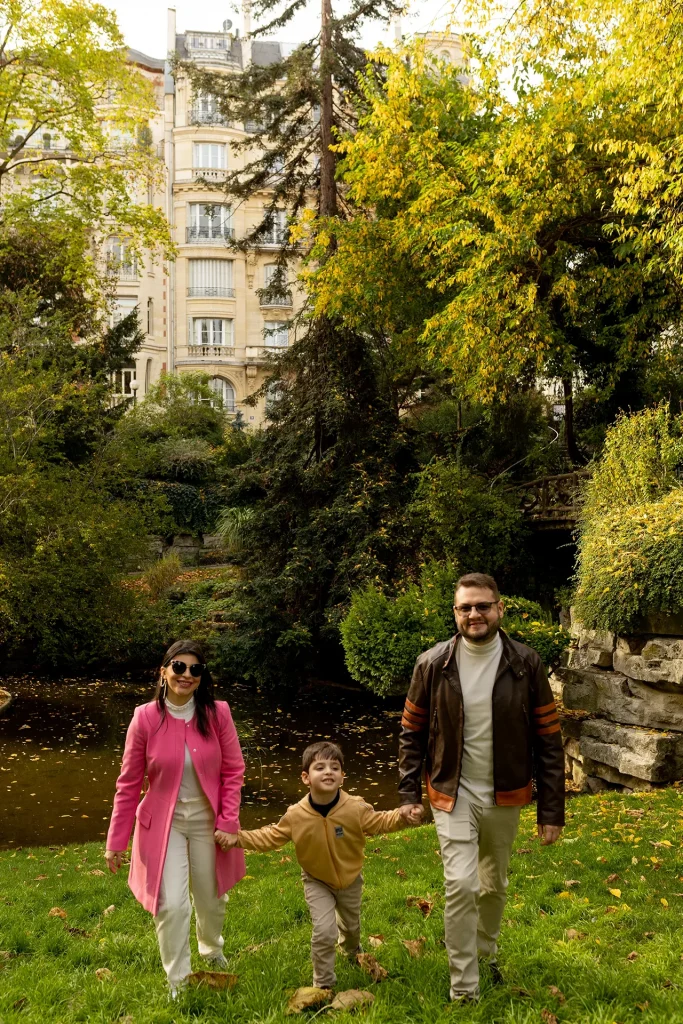 Paris Squares: Places like Place des Vosges, Place de la Concorde, and the Paris Plages along the Seine during the summer offer picturesque and vibrant settings for family photos.
Pont des Arts: This famous bridge is known for its "love locks." With spectacular views of the Seine and the Louvre, it can be a romantic and symbolic location for your photo session.
Trocadéro Palace: The gardens of the Trocadéro Palace offer breathtaking views of the Eiffel Tower. It's a popular location for photos with the tower in the background.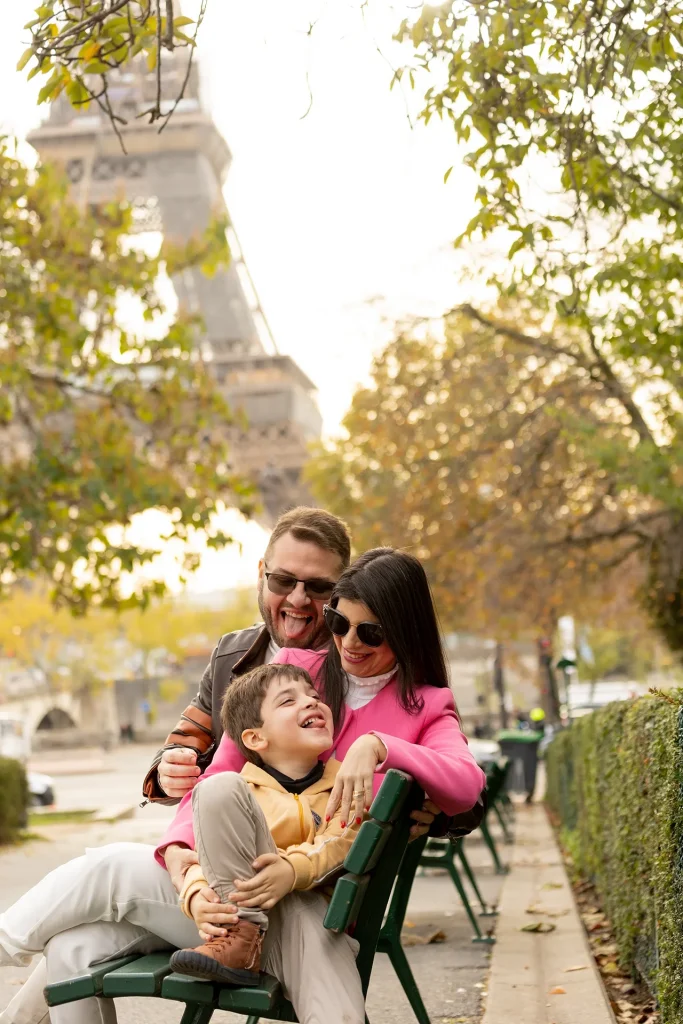 Local Parks and Squares: Besides the iconic locations, Paris has many charming local parks and squares, such as Parc des Buttes-Chaumont, Parc des Princes, and Place des Abbesses in Montmartre.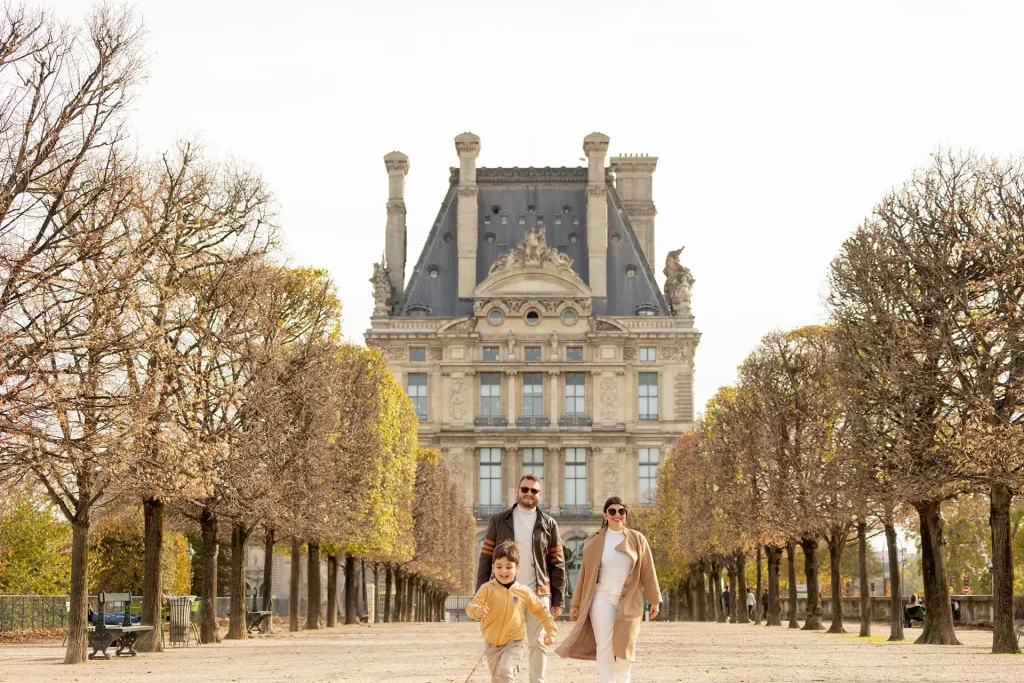 Remember to choose a location that holds meaning for your family and aligns with the style of photos you desire. Paris offers a multitude of options to make your family photo session unique and unforgettable.
STAY IN TOUCH
booking & more info
Want to know more information or quotes about shootings and elopement in Paris?
Request through the form below and schedule the best souvenir of Paris!
Paris, França
+33 ​755625582 (assistant Sthefane)