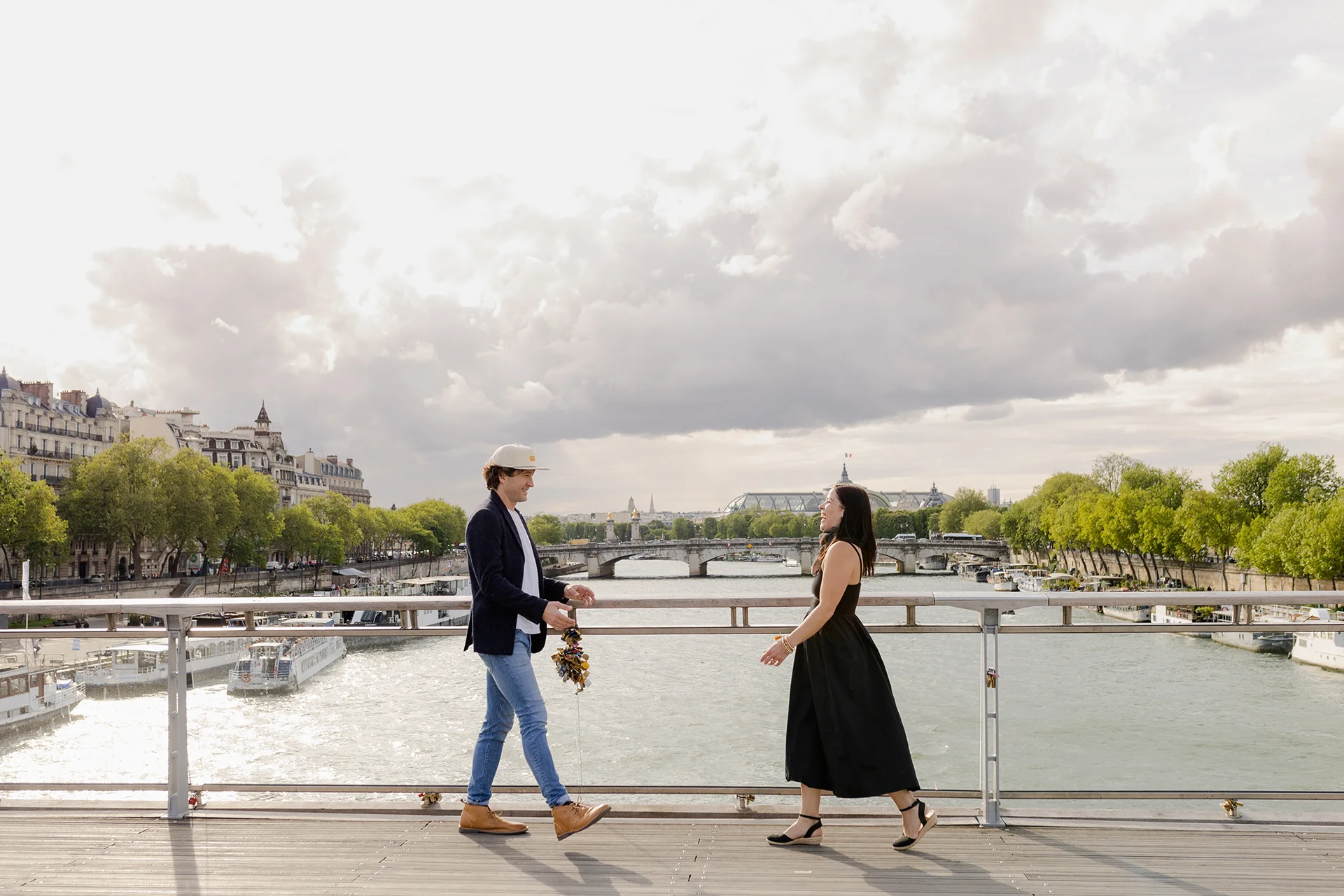 PARIS COUPLE PHOTOSHOOT
A couple photoshoot in Paris offers a romantic and unforgettable opportunity to capture the shared love in iconic settings of the City of Love. As a specialized photographer, you can experience authentic moments, embraced by the romantic atmosphere of Paris, while creating lasting memories in locations like the Eiffel Tower, Montmartre, and the banks of the Seine. Through spontaneous and emotional photos, you immortalize the passion and connection shared with your partner in this magical city.
The couple photoshoot in Paris is a unique, creative, and romantic experience that celebrates love in a stunning and historic environment.
WHY HIRE A PROFESSIONAL PHOTOGRAPHER TO CAPTURE YOUR COUPLES PHOTOSHOOT IN PARIS?
Hiring a professional photographer to capture your couple's photoshoot in Paris is a choice that can make all the difference in the quality and meaning of your photos. Here are some compelling reasons to opt for a professional photographer:
Knowledge of Locations
As a professional photographer, I know the best locations in Paris for amazing photos and where to find the best views, angles, and scenes, allowing your photos to stand out.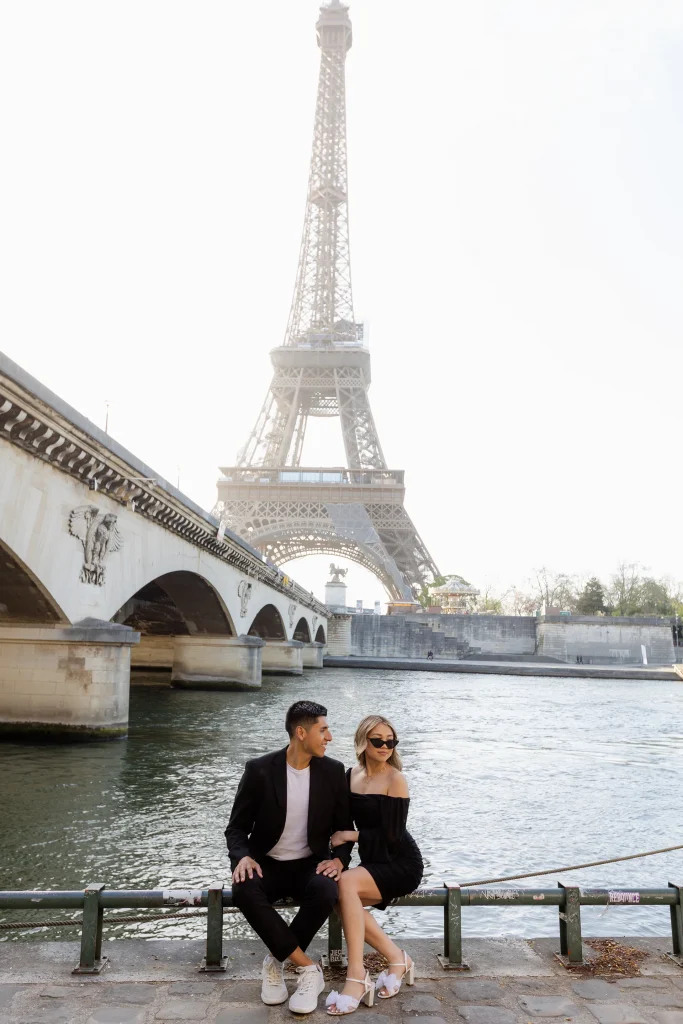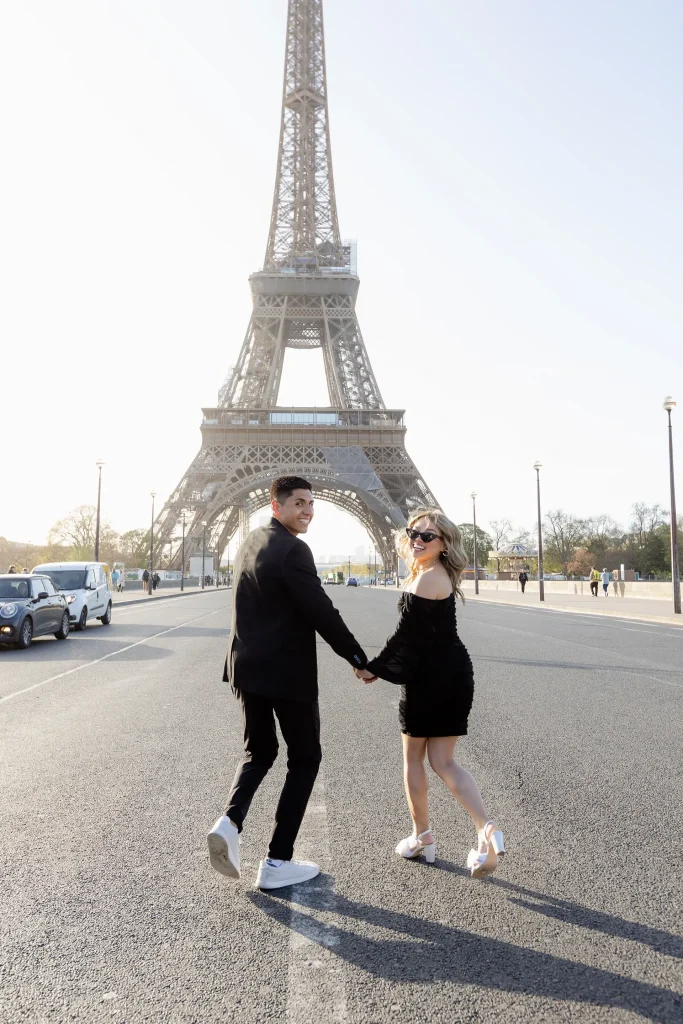 Creativity and Style
A unique style and creativity to make your photos authentic. I'm always adding art and movement to my images, resulting in memorable photos.
Professional Equipment
I do not use a mobile phone for my photos, I work only with professional equipment to ensure photos with exceptional quality. Photos taken by a professional photographer are enduring, high-quality memories that can be shared, printed, and cherished for generations.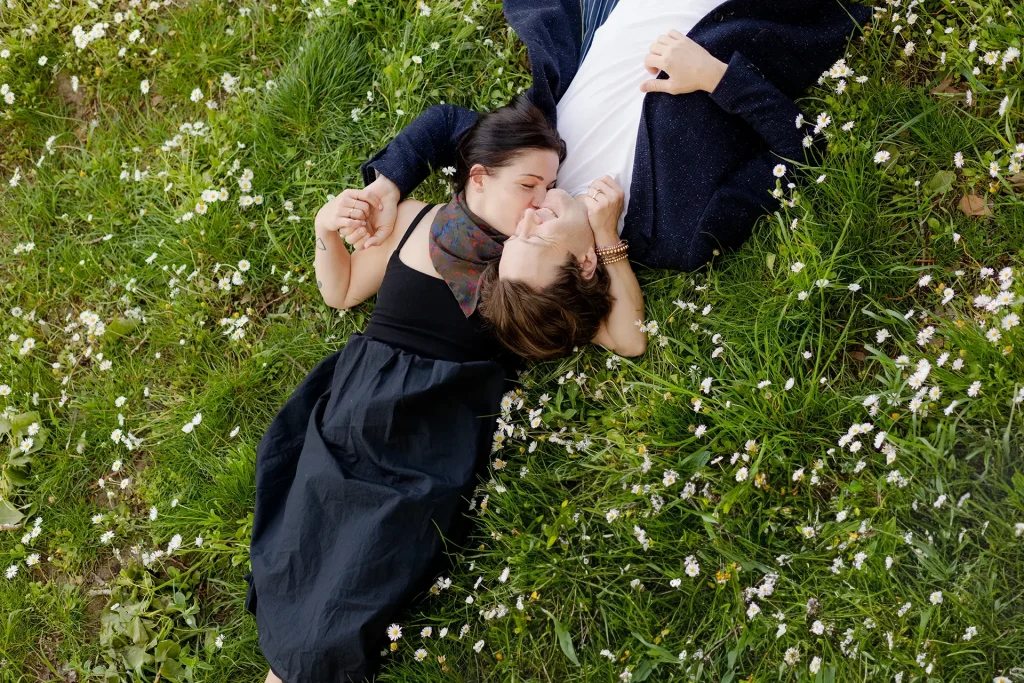 Capturing Genuine Moments
As an experienced photographer, I prefer to capture authentic and emotional moments. I have the ability to record the passion, connection, and love of the couple in a genuine way.
Editing and Post-Production
I edit the photos to enhance the quality and visual appeal, adjusting colors, contrast, and eliminating imperfections, ensuring that your photos look stunning. It's really important to check the style of each photographer and be sure it's what you are looking for.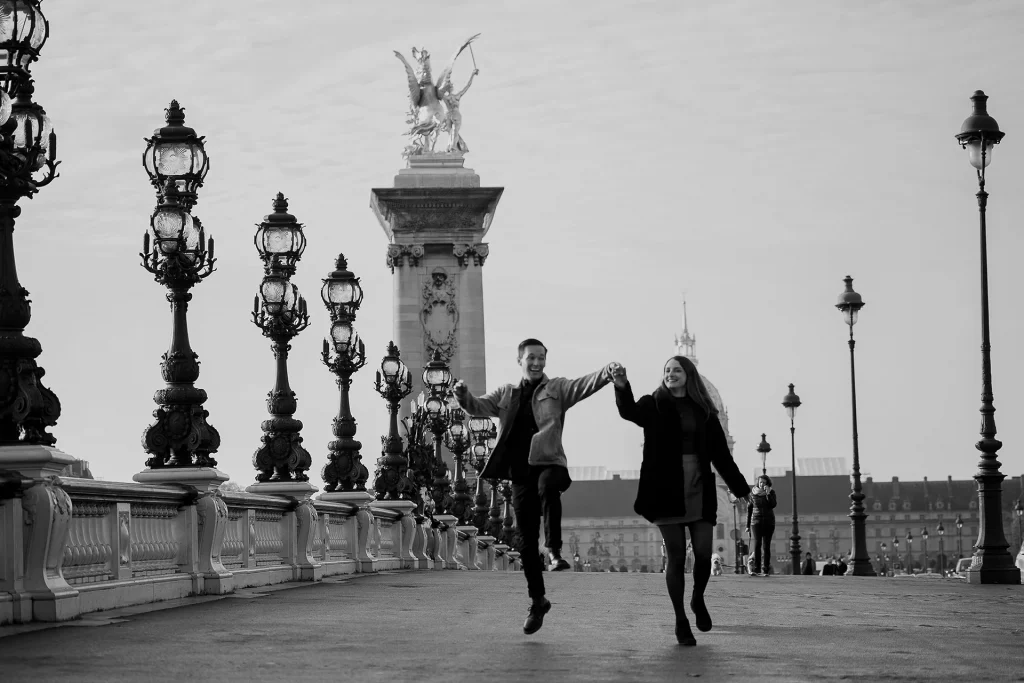 Focus on the Couple
A professional photographer focuses on capturing the essence of the couple and their relationship. They ensure that the couple is represented in the photos in a meaningful way.
Less Stress
With a professional photographer, you can relax and enjoy the moment rather than worry about capturing it. This creates a more relaxed and authentic environment during the photo session.
PRICE COUPLE SHOOTING PRICE IN PARIS
LOCATION OPTIONS FOR COUPLE PHOTOSHOOT IN PARIS
Trocadéro
Trocadéro offers a spectacular view of the Eiffel Tower, making it one of the most iconic locations for couple photoshoots. The grand staircases and gardens provide a grand and romantic backdrop.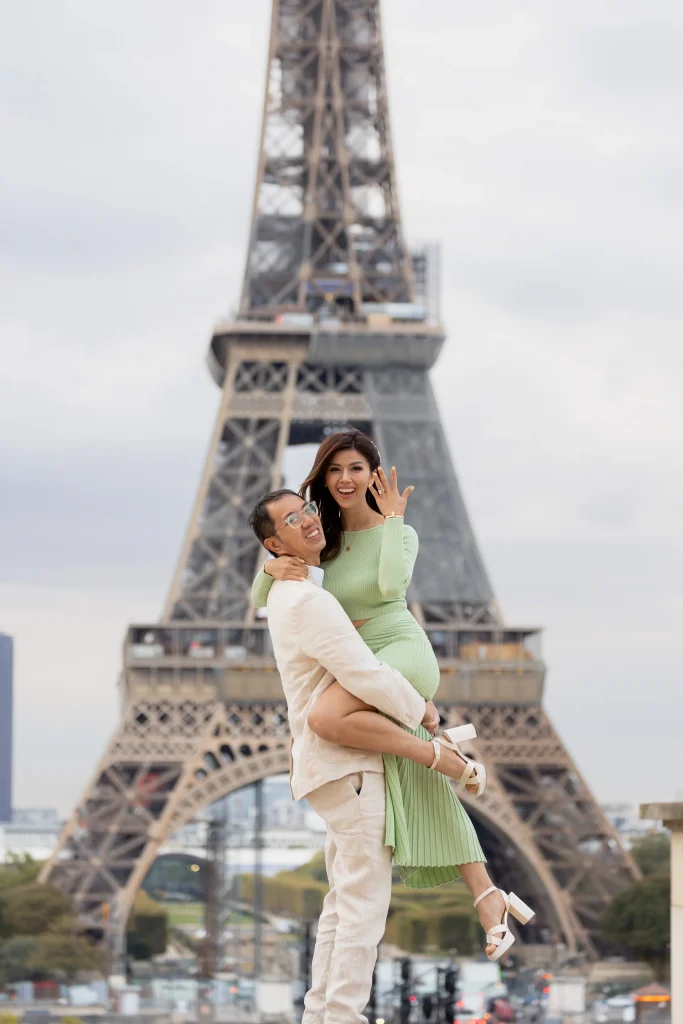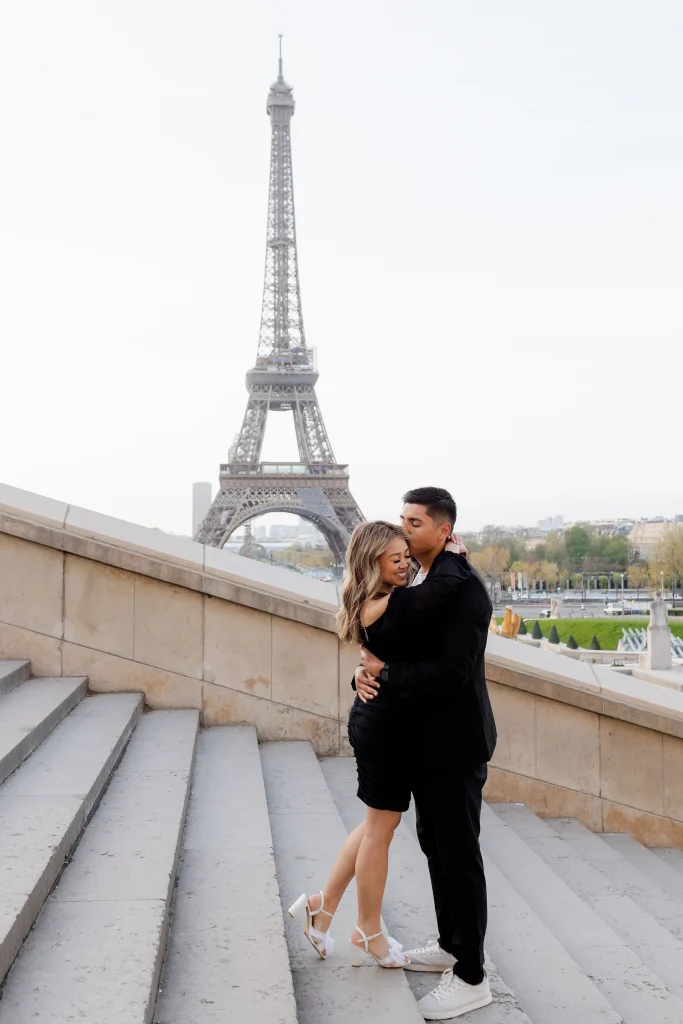 Ponte Alexandre III
This is one of the most photogenic bridges in Paris, with elegant lampposts, statues, and a stunning view of the Seine River. It is a romantic location for riverside photos.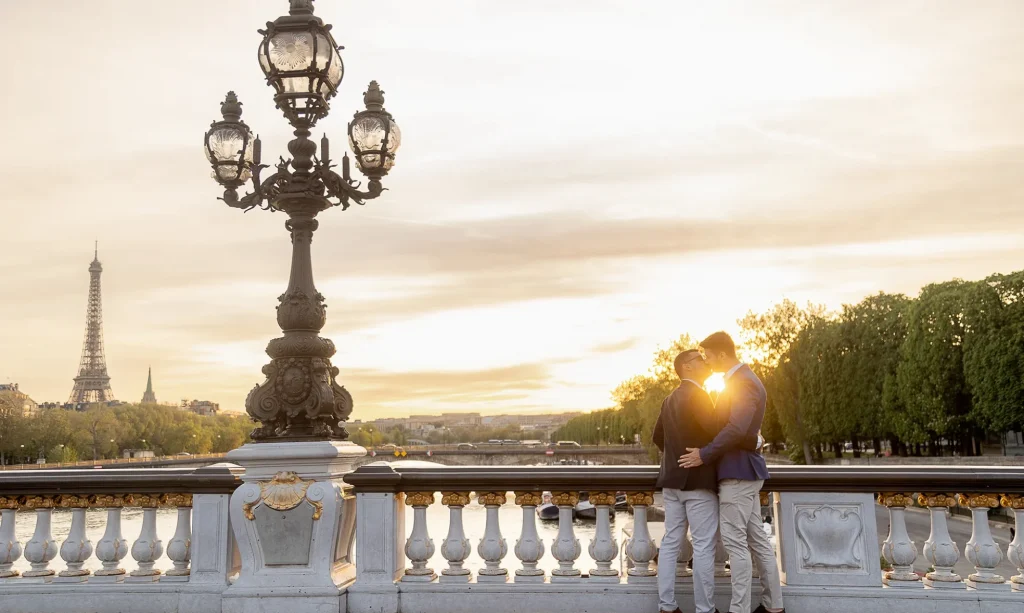 Jardin des Tuileries
These landscaped gardens, located between the Louvre and Place de la Concorde, offer a serene and elegant atmosphere. The fountains, sculptures, and tree-lined pathways provide a classic setting for couple photos.
Montmartre
This picturesque neighborhood is known for its bohemian charm and spectacular views of Paris. The Basilica of Sacré-Cœur at the top of the hill and the cobblestone streets are romantic locations for photos.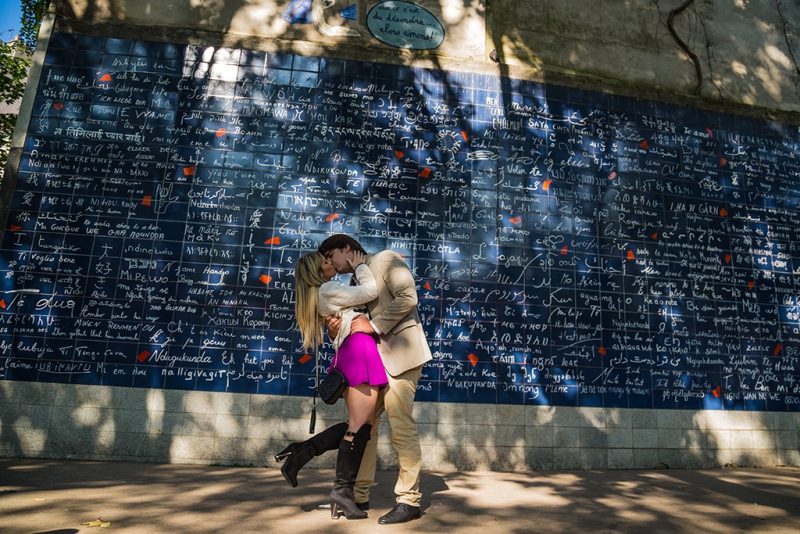 Louvre
The Louvre Museum is not only an architectural marvel but also offers beautiful gardens and courtyards for couple photoshoots. You can capture photos with the iconic Louvre in the background.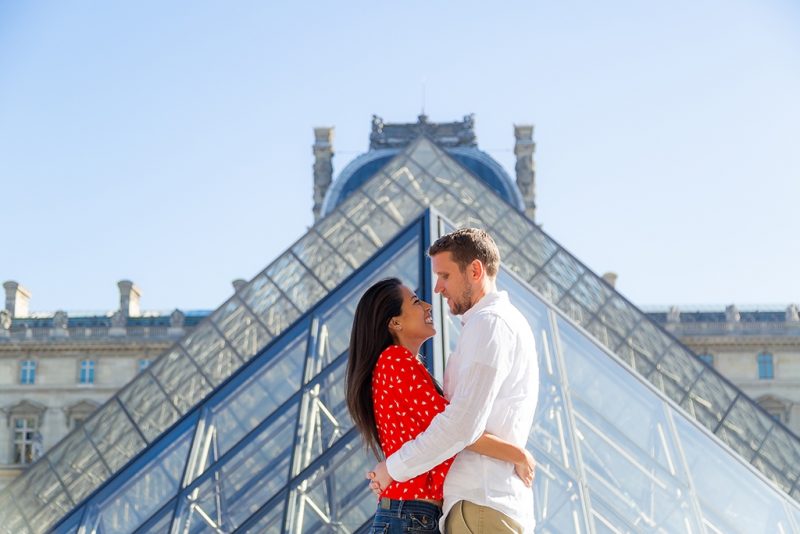 Each of these locations is unique and provides a romantic and charming backdrop for couple photoshoots in Paris. Regardless of the chosen location, you will certainly have amazing photos that capture the beauty and connection of love in the City of Love.
WHAT OCCASIONS TO HAVE YOUR COUPLE SHOOT IN PARIS?
Certainly, Paris is a romantic destination ideal for couples on various occasions. Here are some popular occasions for a couple photoshoot in Paris:
Lovers
A couple photoshoot in Paris can be a great way to celebrate love in the early stages of a relationship or at any stage of dating. Paris is the perfect setting to create memories together.
Engaged
If you are engaged and planning a wedding, a couple photoshoot in Paris can be an exciting way to celebrate this special phase before the big day.
Pre-Wedding
Many couples choose to have a pre-wedding photoshoot in Paris as part of their wedding preparations. This allows you to have romantic photos before the big day.
Honeymoon in Paris
Paris is one of the most popular honeymoon destinations in the world, and a couple photoshoot during the honeymoon can be an incredible way to capture this special moment.
Wedding Anniversaries in Paris
If you are celebrating a wedding anniversary or renewing your vows in Paris, a couple photoshoot can be a meaningful addition to the celebration.
Romantic Activity for Couples in Paris
Even if you are just looking for a romantic activity in Paris, a couple photoshoot can be an unforgettable experience to celebrate your love.
Regardless of the occasion, a couple photoshoot in Paris allows you to capture the beauty of the city and the connection between you and your partner, creating lasting memories. Paris is truly the City of Love and offers an incomparable romantic setting for couples.
STAY IN TOUCH
booking & more info
Want to know more information or quotes about shootings and elopement in Paris?
Request through the form below and schedule the best souvenir of Paris!
Paris, França
+33 ​755625582 (assistant Sthefane)